BIOGRAPHY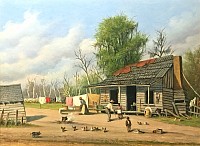 William Aiken Walker, American (1838-1921)
A genre painter, William Aiken Walker, is primarily known for his expressions of plantations, cotton fields, African Americans, and dock scenes. The son of a prominent cotton agent, he was a true Southerner, born in Charleston, South Carolina in 1838.

Walker completed his first painting at twelve and painted until his death in 1921. Although he studied in Dusseldorf sometime during the 1860s, he was primarily self-taught.

A social and friendly man, Walker often entertained friends with stories of his southern travels, which included Florida, Galveston, Texas, and the Carolinas. It is thought that he was somewhat inspired by European artistic subjects and styles, and also made at least one trip to that continent.

Currier and Ives published several of his color lithographs in 1884; most notably "Cotton Plantation on the Mississippi" and "The Levee, New Orleans," and his recognition soon grew. Throughout the Civil War, Walker remained in Charleston; becoming a member of the Confederate Engineer Corps, drafting sketches and preparing maps for the Confederacy.

From 1876 to 1905, Walker regarded New Orleans as his home. There he became especially close to Everett B. D. Fabino Julio, with whom he tried to form an art league. Although their league did not succeed, the project led to what would later become the Southern Art Union, which was formed in 1880, the earliest such association in New Orleans.

Walkers most productive period was during the early 1880s when he painted hundreds of pictures of poor rustic blacks. He enjoyed North Carolina, and spent many summers at Arden Park Lodge in the Asheville area, until it burned in 1919. The lodge was owned by Charles Beale of Arden, who became Walkers patron, enabling him to become a regular artist-in-residence and to sell his paintings at the lodge, with scenes of blacks working on tobacco farms.

His works are detailed due to some use of a camera, and sometimes lack of emotional depth. The number of landscapes he painted increased after 1890. Walker had added talents, and was known to sing, play the violin and piano, and compose poetry in English and French. One of his art students was Blanche Blanchard, who copied some of his work and painted in Walkers style.