BIOGRAPHY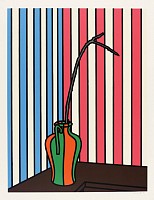 Patrick Caulfield (British b. 1936)
Patrick Caulfield was born on January 29, 1936. He was an English painter and printmaker known for his pop art canvases. He studied at the Chelsea School of Art from 1956 to 1960, and at the Royal College of Art from 1960 to 1963. After he left, he returned to Chelsea as a teacher.

In 1964, he exhibited at the New Generation show at London's Whitechapel Gallery, which resulted in him being associated with Pop Art.

From around the mid-1970s, he began to incorporate more detailed, realistic elements into his work with After Lunch(1975) being one of the first examples. Still-life: Autumn Fashion (1978) contains a variety of different styles—some objects have heavy black outlines and flat color, but a bowl of oysters is depicted more realistically, and other areas are executed with looser brushwork. Caulfield later returned to his earlier, more stripped-down, style of painting.

Caulfield's paintings are figurative, often portraying a few simple objects in an interior. Typically, he used flat areas of simple color surrounded by black outlines. Some of his works are dominated by a single hue.

In 1987 Caulfield was nominated for the Turner Prize, and in 1996 he was made a CBE, Order of the British Empire.