BIOGRAPHY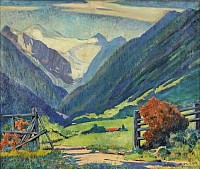 Louis Hovey Sharp (American 1874-1946)
Born in Glencoe, IL on July 27, 1874, Louis Hovey Sharp studied with William Merritt Chase, Frank Duveneck, Charles Boutwood, and at the Art Institute of Chicago. He sketched for a brief time on the Hopi reservation in Arizona before moving to Pasadena, CA in 1914.

For the next 15 years he kept studios both in Pasadena and Taos, NM. I n 1917 he spent many months painting in the Grand Canyon; in 1925 he was on the Monterey peninsula, and after 1929 lived for a time in the Austrian Tyrol.

Sharp died in Pasadena on June 13, 1946.