BIOGRAPHY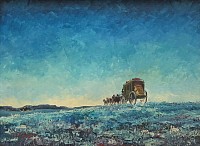 Keith Fay (1920-2008)
A well-known painter in the Jackson, Wyoming area for his mountain landscapes, Keith Fay was born Aug. 31, 1920, in Scottsbluff, Nebraska to Ethel Lambert and Abbott Eastman Fay.

From 1941 to 1945, he served in the Army Air Corps where he painted the signature-jagged teeth on the airplanes for the Flying Tigers. He married Dorothy Gertgson on December 3, 1946 and they moved to Jackson Hole in 1966, where they opened the Fay Art Gallery.

Keith Fay died August 15, 2008 at his home in Jackson Hole.